High Quality 2D Transfer Systems
HQ Graphene Systems BV designs, produces and sells transfer systems worldwide.



Introduction
In the field of 2D materials research, the production of layered structures is gaining widespread attention. In these structures, the layers can be stacked in a wide variety of alignments and orientations, each configuration having its own (potentially) interesting physical or chemical properties. Our transfer systems are designed to accurately place a stamp (with for example hexagonal boron nitride, graphene, etc.) on a substrate, which can be moved relative to each other not only in the x-, y- and z-directions but also by tilting and rotation. This allows for the highest degree of freedom in the alignment of 2D crystal flakes when fabricating heterostructures and twisted layered structures.

The substrate is fixated with vacuum and can be temperature controlled between RT and 200 °C. The compact design allows for easy placement inside a glovebox, providing the option to work with air sensitive materials.

All systems are supplied with a high resolution microscope having long working distance objectives and allowing for bright field / dark field illumination at choice. For our manual systems, one can also choose for a pure bright field microscope. All microscopes are equipped with a correction collar objective optimizing vision through the glass plate bearing a stamp.

We offer fully motorized systems, manually operated systems, and partially motorized systems. We also provide modified transfer systems having different compositions or configurations of the mechanical platform, or, for instance, having equipment for nanowire manipulation.

All systems purchased from HQ Graphene Systems BV come with a 1 year warranty as well as remote support during weekdays by our engineers.
Fully motorized transfer system (HQ2D MOT)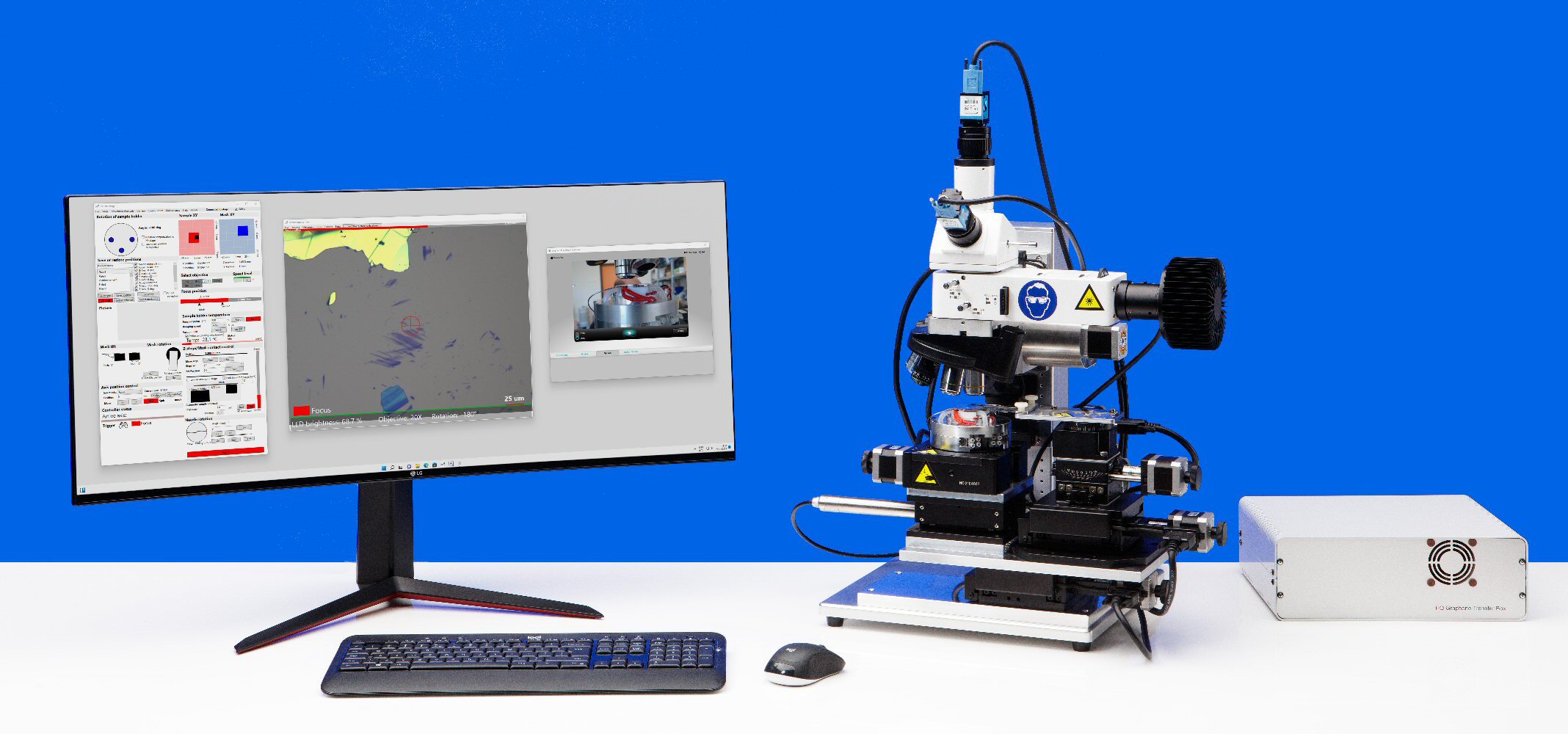 Apart from loading the sample and mask, performing a transfer on this system is completely software controlled, making it ideal for use inside a glovebox to be able to work with highly sensitive materials. The dedicated HQ Graphene Transfer Stage program guides you through all steps in an intuitive manner, offering many useful features such as image saving, sample position storage and automatic focusing. All relevant actions and conditions are clearly monitored real time and can be adjusted with the keyboard or with the external controller for fast operation. This system is equipped with a dark field / bright field microscope supporting an extra camera for the wide angle field of view.
Manual transfer system (HQ2D MAN)
The manual system is destined for those who prefer a compact design and a hands-on operation. The mechanical platform is controlled with micromanipulators with differential screws for the fine, critical adjustments. Heater, cooler and vacuum are touchscreen controlled and integrated together with the LED adjustment knob in a compact HQ Graphene control box. The microscope is equipped with oculars and a camera with imaging software.
Customized transfer systems (HQ2D MOD)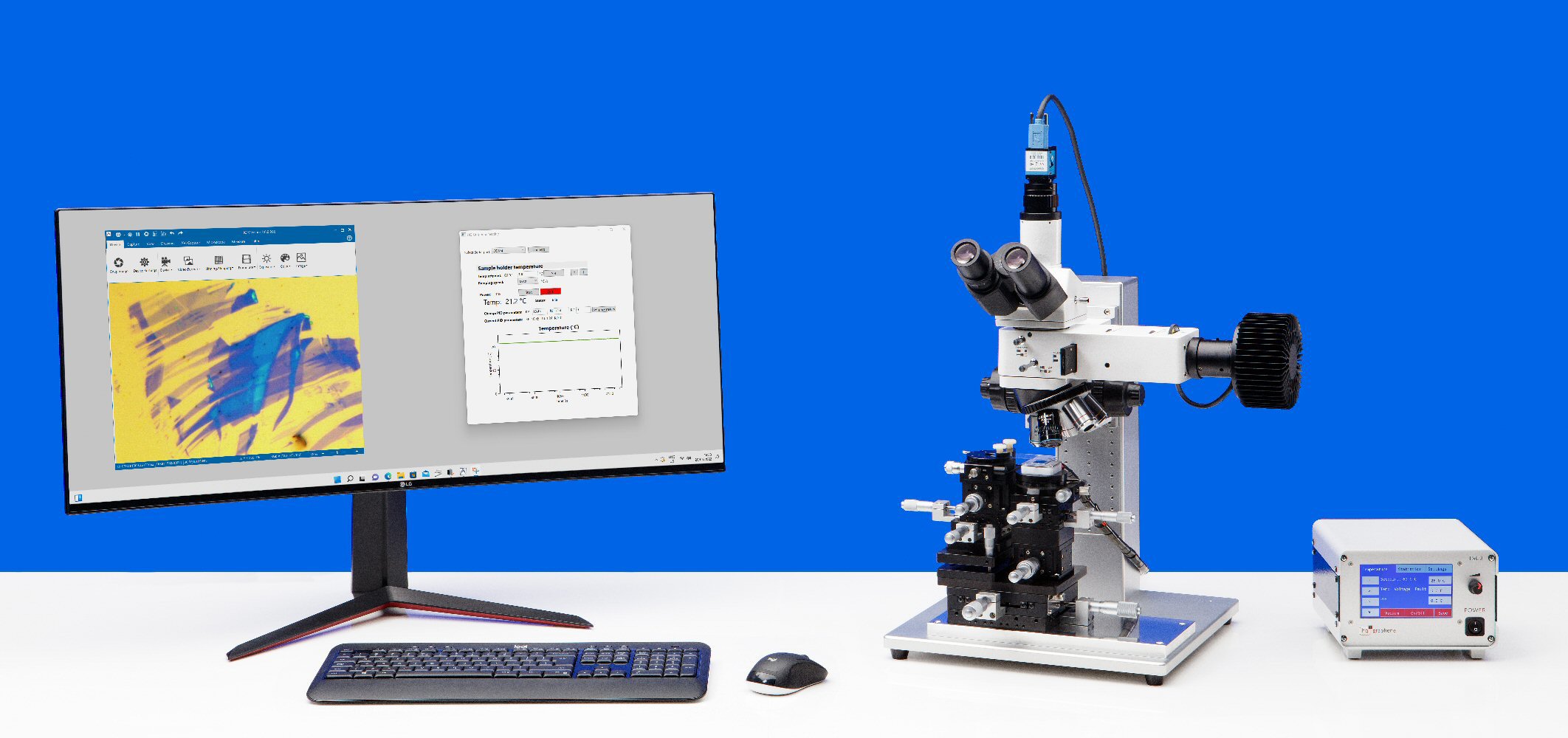 "Modified transfer system with XY and Z-stages both under the sample and the mask."
Modified transfer systems
| | |
| --- | --- |
| Product code | Description |
| HQ2D MOT-N | Fully motorized transfer system meant for 2D transfers and also equipped with an integrated orientable needle that can pick up, displace and reorient a nanowire. The needle is connected to the software commanded mask holder. |
| HQ2D MAN-N | Manual transfer system meant for 2D transfers and also equipped with an integrated orientable needle that can pick up, displace en reorient a nanowire. The needle is connected to the manually operated mask holder. |
| HQ2D MOD MAN-2XYZ | Manual transfer system with XY- and Z-stages for both the sample and the mask holder and an XY-stage for common displacement of sample and mask, so this system offers maximal freedom in the displacement of sample and/or mask. Can readily be equipped with stage motors. |
| HQ2D MOD MAN-2XYZ MROT | As HQ2D MOD MAN-2XYZ, with a motorized sample rotation stage. |
| HQ2D MOD MAN-BF | Standard manual transfer system with a pure bright field microscope without dark field illumination option. |
The list of HQ2D modified transfer systems can be downloaded here (PDF).
Comparing the HQ2D transfer systems
System
Fully motorized transfer system
Manual transfer system
Product code
HQ2D MOT
HQ2D MAN
Applications
2D heterostructure fabrication
Twisted 2D production (twistronics)
Transfer of large size CVD 2D layers
High resolution microscope

for making sharp images of 2D layers: high NA and magnification objectives

Inside a glovebox with air sensitive materials
Nanowire manipulation
Independent degrees of freedom
XY-mask
XY-sample
Large XY: mask and sample collectively Z-mask
Z-mask

for compactness, the sample to mask distance is by default controlled with Z-sample

-
Z-sample
Tilt mask in XZ-plane
Tilt mask in YZ-plane
Rotation sample holder
Loading/unloading sample
Microscope focus
Properties
Overall dimensions (WxDxH)

microscope with mechanical platform, dimensions may differ for modified systems

55 x 43 x 72 cm
52 x 44 x 65 cm
Footprint microscope with mechanical platform
35 x 35 cm
35 x 35 cm
Mass microscope with mechanical towers

dimensions may differ for modified systems

38,5 kg
22.5 kg
Sample movement range
50 mm
20 mm
Rotation resolution of sample holder
1 mdegree
20 mdegree
Z-movement resolution
40nm
sub micron
Sample temperature control range
RT to 200 °C
RT to 200 °C
Temperature resolution
0.1 °C
0.1 °C
Temperature control rate
1°C/min to 1°C/s
0.1°C/s to 2°C/s
Number of microscope objectives on turret
up to 6
up to 5
Dark field (DF)/Bright field (BF) microscope options
DF/BF
BF or DF/BF
Included features
Software for imaging and control
System fully controlled with computer
-
Support from HQ Graphene Systems team
Mechanical platform partially motorized

inform at HQ Graphene Systems BV for the motorization options

N/A

= optionally, see list of modified transfer systems
The list of system specifications can be downloaded here (PDF).